Bahamas Fishing Charters...
If you're looking for some good times and great fishing, you've come to the right place! Bonefish Bradley's Fishing Charter is the perfect destination for all your fishing needs in the Bahamas. Located in Andros, Bahamas, the Bonefish Capital of the World, Bonefish Bradley has all the resources you need for a fantastic fly or spin reel adventure. In addition to some great fishing, Bonefish Bradley is your Go-To Guy for exciting excursions and relaxing island tours.
So, come on down - your Island Adventure awaits!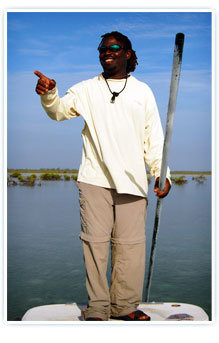 Bonefish Bradley was born and raised in Andros. His childhood playground was made up of crystal clear water and conch shells, pristine pine forests and plenty of Piping Plovers… And, of course, fish! Lots of them. Thanks to his father, Bonefish Bradley could cast a line before he could do pretty much anything else. He received his passion for fishing from his late father, and because of that, Bonefish Bradley wanted to share the joys (and the pains) of fishing with others. He's been professionally fishing for over 17 years, and he looks forward to a long life of much of the same… sand, saltwater, and fish.
Fishing in Andros Island, Bahamas...
Andros Island is known as the Bonefish Capital of the World. The island has an area greater than all the other 700 Bahamian islands combined and consists of hundreds of small inlets and cays connected by mangrove estuaries and tidal marshes. The Andros Barrier Reef is the world's third longest, and the island is home to the world's largest collection of Blue Holes. Nicknamed "The Sleeping Giant," Andros Island is certainly a giant paradise.
Everything is better in the Bahamas.

Unknown

The cure for anything is salt water - sweat, tears, or the sea.

Isak Dinesen

Shells sink, dreams float. Life is good on our boat.

Jimmy Buffett

A bad day of fishing is better than a good day at work.

Unknown

Give a man a fish and he has food for a day; teach him how to fish and you can get rid of him for the entire weekend.

Zenna Schaffer

Three-fourths of the Earth's surface is water, and one-fourth is land. It is quite clear that the good Lord intended us to spend triple the amount of time fishing as taking care of the lawn.

Chuck Clark

If people concentrated on the really important things in life, there'd be a shortage of fishing poles.

Doug Larson

The charm of fishing is that it is the pursuit of what is elusive but attainable, a perpetual series of occasions for hope.

John Buchan

You must lose a fly to catch a trout.

George Herbert

My biggest worry is that my wife (when I'm dead) will sell my fishing gear for what I said I paid for it.

Koos Brandt

Soon after I embraced the sport of angling, I became convinced that I should never be able to enjoy it if I had to rely on the cooperation of the fish.

Sparse Grey Hackle

The solution to any problem -- work, love, money, whatever -- is to go fishing, and the worse the problem, the longer the trip should be.

John Gierach

I always thought a fly fisherman was the ultimate optimist; anyone who believes he can trick a wary wild fish with a concoction fashioned from feathers and fur can't be a pessimist.

David Klausmeyer
Adventures Offered:
Light Tackle/Reef Fishing
Spin & Fly
Snorkeling
Offshore Cruises
Sightseeing
Camping
Hiking
Wild Boar Hunting
Specializing in:
Bonefish
Tarpon
Permit
Barracuda
Mahi Mahi
Yellow Fin Tuna
Everything Else
The fish are always biting
in the Bahamas!
Festivals in Andros:
Crab Fest at Fresh Creek
Annual Regatta at Morgan's Bluff
Conch Festival
Junkanoo and Goombay Festival
Pirate's Festival
Annual Seafood Splash
Chickcharnie Festival