Contact Bonefish Bradley...
"If you want to catch a bonefish badly, call Bonefish Bradley!"
Please contact us so we can help with your next Bahamian Adventure!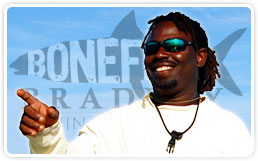 Bonefish Bradley MacKey
Work: (305) 677-0475
Cell: (242) 471-0626
Bradley@BonefishBradleyBahamas.com
Bowen Sound
Andros Town, Bahamas
---
Where should I stay in Andros, Bahamas?
Check out these locations and tell them Bonefish Bradley sent you!
Andros Lighthouse Yacht Club and Marina
(242) 368-2305
www.AndrosLighthouse.com

Hank's Place
(242) 357-2214
www.hanks-place.com

Small Hope Bay Lodge
(800) 223-6961
www.SmallHope.com
Everything is better in the Bahamas.

Unknown

The cure for anything is salt water - sweat, tears, or the sea.

Isak Dinesen

Shells sink, dreams float. Life is good on our boat.

Jimmy Buffett

A bad day of fishing is better than a good day at work.

Unknown

Give a man a fish and he has food for a day; teach him how to fish and you can get rid of him for the entire weekend.

Zenna Schaffer

Three-fourths of the Earth's surface is water, and one-fourth is land. It is quite clear that the good Lord intended us to spend triple the amount of time fishing as taking care of the lawn.

Chuck Clark

If people concentrated on the really important things in life, there'd be a shortage of fishing poles.

Doug Larson

The charm of fishing is that it is the pursuit of what is elusive but attainable, a perpetual series of occasions for hope.

John Buchan

You must lose a fly to catch a trout.

George Herbert

My biggest worry is that my wife (when I'm dead) will sell my fishing gear for what I said I paid for it.

Koos Brandt

Soon after I embraced the sport of angling, I became convinced that I should never be able to enjoy it if I had to rely on the cooperation of the fish.

Sparse Grey Hackle

The solution to any problem -- work, love, money, whatever -- is to go fishing, and the worse the problem, the longer the trip should be.

John Gierach

I always thought a fly fisherman was the ultimate optimist; anyone who believes he can trick a wary wild fish with a concoction fashioned from feathers and fur can't be a pessimist.

David Klausmeyer
Adventures Offered:
Light Tackle/Reef Fishing
Spin & Fly
Snorkeling
Offshore Cruises
Sightseeing
Camping
Hiking
Wild Boar Hunting